Stripes For The Win!
So of course I'm a girl who loves her stripes. I'm pretty sure if I asked for a show of hands most of us would say we were. But until recently I had fallen out of love the parallel patterns that's made its way from J.Crew to ASOS. I was getting an over done vibe, not from brands for magazines but from myself.
If you look back to our trip to Hawaii this Christmas all you'll see are stripes, even the boys were wearing them. I remember looking at our photos from this trip and comparing them to last years Hawaiian adventure. The year before it was floral, floral and more floral which is my usual. This year I was so stripy it was starting to burn my eyes. So I decided a break from stripes was in order.
That is until I found this beautiful number from Who What Wear. It's quickly become one of my favorite staples in my wardrobe. I wore it for the first leg of our road trip and while we were stopped in Charleston.  It had the prefect whimsical getaway look just right for my birthday celebration in the low country! The dress itself is made of a light weight linen fabric with ruffled embellishments on the sleeves and bottom hem of the dress. Even better it's from Target and less than $40, a steal in my opinion. Unfortunately this particular dress can only be purchased in stores. But I've linked a few other pieces I've purchases because they too have become staples. Who What Wear, here, just take all my money; because if you're going to keep making such beautiful pieces I'm just going to have to buy them! ?
 This piece is my favorite for a chill afternoon of who knows what. I love it for Sunday afternoons especially. Sundays are my whatever day, I don't stick to a plan I see where the day and my boys take me. A dress like this is great for such a day, it's super comfy but still creates a put together look. I can wear it with espadrilles for the farmers market or maybe even some spring cleaning or dress it up with a heel and I'm ready of impromptu date night out with Sammy. (Under $40)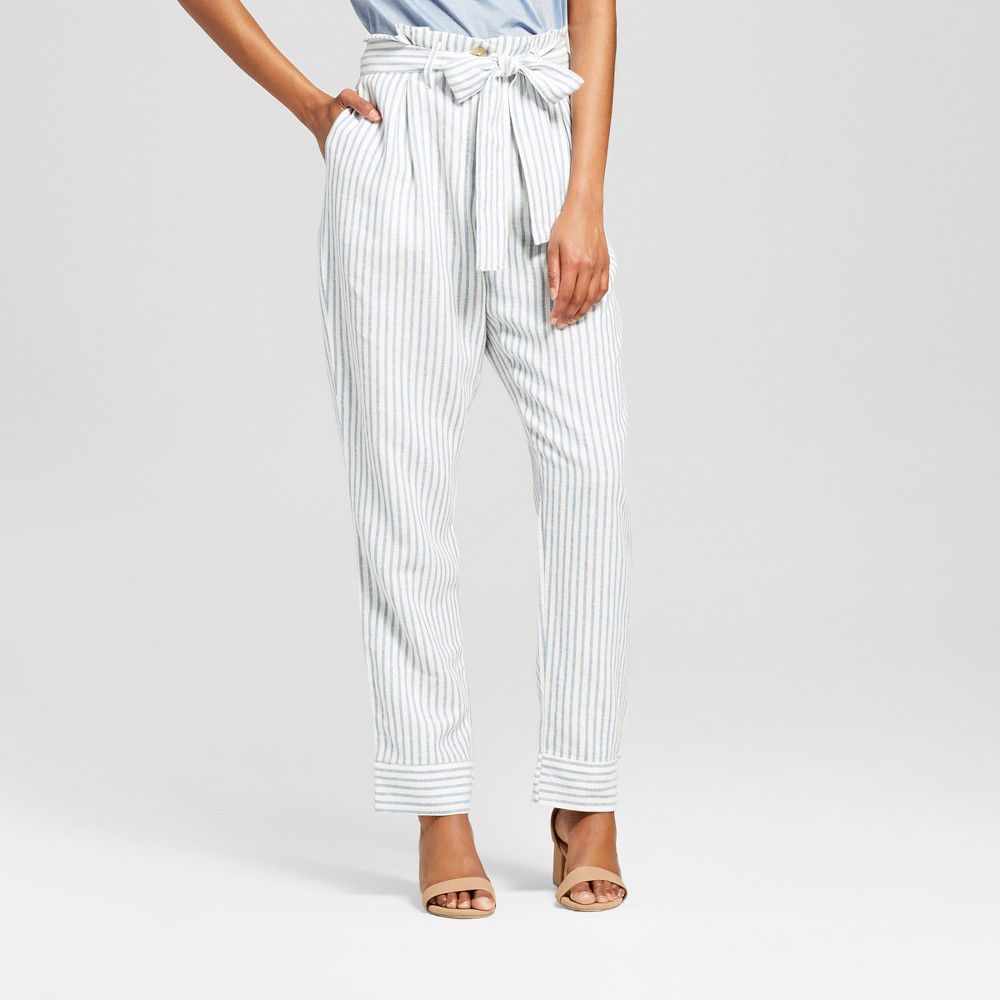 – Paperbag Pant –
The be all to end all of beachy, at least in my book. I love these pants, the material the color  are a big YES. They have an over-exaggerated waist, which at first I'll admit was unsure of. To my surprise they actually take my curves and accentuate them nicely. Perfect for a business dinner or meeting with a potential collabs! (Under $40)
I've often found it hard to find a piece that really works with a midi skirt. Of course an retro graphic tee works with a midi but sometimes I love to really boast up the ruffles when wearing a skirt. At times my motto is, "The girlier the better" Enter this chambray twist on a new classic. For 25 dollars I honestly don't think I could find anything cuter with such a great price. (Under $3o)
---
---